Tip of the Day
Want Streak Free Windows? Try this ...
Aftering washing them, dry one side from right to left, and then on the other side, dry with strokes going up and down. Then check the window, and if there's a streak, you'll more easily be able to see it.
Zesty Lime Chicken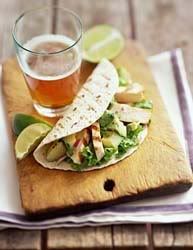 What you need:
3/4 teaspoon salt
1/4 teaspoon black pepper
1/4 teaspoon cayenne pepper
1/8 teaspoon paprika
1/4 teaspoon cumin
1/4 teaspoon Mexican paprika
1/4 teaspoon garlic powder
1/8 teaspoon onion powder
1/4 teaspoon dried thyme
1/4 teaspoon dried parsley
1 small onion chopped
1/2 pound mushrooms sliced
4 boneless, skinless chicken breasts, sliced – or you can use the frozen chicken tenders from Costco.
2 tablespoons butter
1 tablespoon olive oil
2 teaspoons garlic powder
½ cup lime juice or 1 cup
Baja Bob's Original Margarita Mix
(to taste)
4-6 limes sliced
What you do:
In a small bowl, mix together salt, black pepper, and all spices. Sprinkle spice mixture generously over chicken breasts.
Heat butter and olive oil in a large heavy skillet over medium heat. Sauté onion and mushrooms until tender. Add chicken until golden brown (approx 7-10 minutes). Sprinkle with 2 teaspoons garlic powder and lime juice. Cook 5 minutes, stirring frequently to coat evenly.
Add 1-2 sliced limes and leave on low heat for approximately 10 minutes.
In my house we serve this over warmed corn tortillas, adding rice and cheese as desired and then squeeze fresh lime juice over them.
This is a great summer dish, as the chicken can be served warm or cold. The limes give it a zing … add your favorite Margarita and make it a Fiesta!
You can also throw it all in a crock pot and let it cook for the day, just add more lime juice or Margarita mix for moisture.
Here's to great eats and a great week ...
Frannie
Let's not be afraid to look at everything that has brought us to where we are now and trust that we will soon see in it the guiding hand of a loving God.
-Henri Nouwen
It is a common experience that a problem difficult at night is resolved in the morning after the committee of sleep has worked on it.-
John Steinbeck, author
How, then, can they call on the one they have not believed in? And how can they believe in the one of whom they have not heard? And how can they hear without someone preaching to them?
Romans 10:14