So, if you haven't seen it already ... head on over to Just Jared (
http://justjared.buzznet.com/
) and watch the interview between George Clooney and Julia Roberts. Too darned funny and so CUTE. Brad Pitt even calls during interview ....
I have a feeling that if Julia hadn't hooked up with Danny - she and George would be the cutest couple ever.
Of course there is also the interview between Russel Crowe and Nicole Kidman .... not nearly as funny or cute. But not as bad as I thought it would be ... Nicole just continues to be very guarded ... but really, personally, I can't blame her.
And the botox thing ... yea, she should stop now. But I do think she is lovely and probably a very sweet person.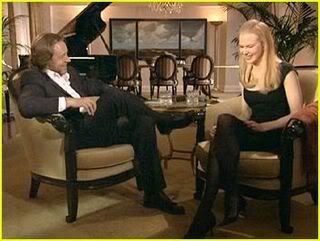 Hope your weekend is good. Umm ... we have s.n.o.w. again. Grrr... it won't stick, but its irritating anyway.
Frannie
We the willing, led by the unknowing, are doing the impossible for the ungrateful. We have done so much, with so little, for so long, we are now qualified to do anything with nothing. -Mother Teresa of Calcutta

Anger and intolerance are the enemies of correct understanding. -Gandhi

He that is of a merry heart hath a continual feast. -Proverbs 15:15