or I could title this post: the day that Frannie sliced and diced her own finger ...

that sounds a little ghastly though, right? And it is … ghastly.

You see, I might have mentioned once, or twenty times, that I cook. A Lot. So, lately I have been in search of tools to make the preparation for cooking a little easier … when you peel 20 or 30 pounds of potatoes, slice a gazillion carrots and grate approximately 50 pounds of cheese a week … well, you kinda wanna streamline the process a bit.

So, I picked up this handy little device …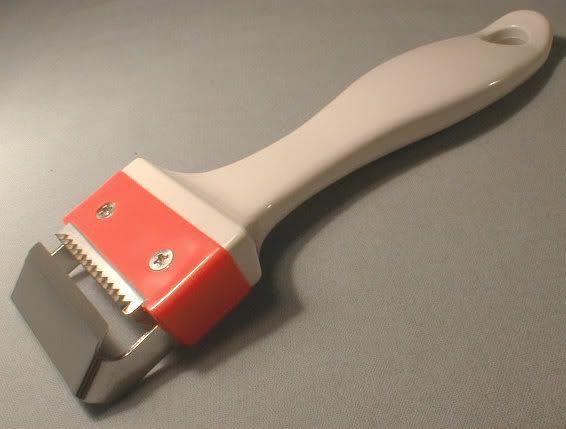 and it works wonders, it is an animal when it comes to fruits and vegetables ... seriously, I don't know how I lived with out it this long.

The downside? Well, the learning curve – ya know… every tool has its intricacies. This one … well, you have to hold it just so. And if you don't ... well, ummm ... it gets a wee bit snippy. With your digits. I guess I wasn't paying it enough attention; perhaps I gripped it a bit too tight ... because the retaliation was fierce.

Somewhere between carrots #27 and #28 it took a good part of the tip of my finger off - and let me just tell you – it hurt like h-e-doublehockeysticks! I contemplated posting a picture so you could share in my misery, but every time I remove the bandage I get all weak and stuff …

Anywho ... I gave out a yelp and scared the little children, who (of course) came a runnin' to see what was wrong with MaaMaa … I had to send 'em out to get Mr. Farmer, who told me I had to stop the cookin' process right now .... umm I don't think so Mr. Man, I've got food to deliver in roughly 32 minutes and I am not gonna be late for the ladies luncheon at church ... you know how Mrs. Wilson likes to gossip; if I'm late, the rumors will spread and suddenly everyone in town will just know I'm some sort of irresponsible derelict. That woman, she shure does talk, and talk, and talk ... and well sweetie, this is the ladies luncheon and you know they invited the Baptists from across town ... if I am late, well they'll all just think terrible thoughts about our little congregation ....

Well, at about this time ... Mr. Farmer placed a gag in my mouth gently guided me to table, where he bandaged my hand ... not once, not twice but ... five or six times. There was a lot of blood, which the children found quite fascinating - what is wrong with them?

Anywho ... it has taken me a lloonngg time to type this little ditty ... and AngelBaby is still ClingyBaby and well, its Thursday - and I made it through another day ...

God Bless!
Frannie
Anger is never without a reason, but seldom a good one. - Benjamin Franklin

O Lord, let your ear be attentive to the prayer of this your servant and to the prayer of your servants who delight in revering your name. Give your servant success today by granting him favor in the presence of this man. Nehemiah 1:11